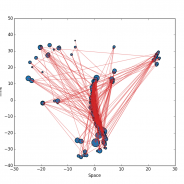 Clustering is a vital tool when handling data making it a central part of data science. By grouping similar objects together, it helps us find what we are looking for. I don't go to a bakery to find a book. Clustering is part of a wider idea in science as we are always faced with thousands of potential or actual measurements but we need to focus on the few which are relevant to the process we are trying to understand. I do not need to know the nuclear properties of the constituents of a gas to understand its properties, while measuring temperature, pressure and volume do throw a lot of light on that problem. In whatever branch of science we are working in, we are always trying to reduce the dimensionality of our data, to use the language of statistics and data analysis.
Many of the techniques we use will need a measure of distance and it is most natural to call upon the everyday distance as defined by any ruler – formally the Euclidean distances d where for example d2 =  x2  +  y2  +  z2  for the distance between the origin and a point at (x,y,z) in 3-dimensions.
However, what if time is present? Time is very different from space. Mathematically it leads to new types of geometry for space-times, Lorentzian rather than Euclidean. The simplest example is the Minkowski space-time used for studying special relativity. James Clough and I have been using Minkowski space as part of our study of networks which have a sense of time built into them - Directed Acyclic Graphs (see my blog on Time Constrained Networks for instance). Essentially these networks have a time associated with each vertex and then any edges present always point in one direction in time, say from the more recent vertex to an older one. Typically the time is a real physical time but for these types of network one can always construct an effective if artificial time coordinate.
There are many types of data with a directed acyclic graph structure. Citation networks are excellent examples and we will use them to illustrate our ideas in the rest of this article. Each node in a citation network is a document. The edges represent the entries in the bibliography of one document which always reference older documents - our arrow of time. We have worked with several different types of citation network: academic paper networks based on sections of the arXiv paper repository, US Supreme court judgements, and patents. My blog on citation network modelling gives some more background and how I think about citation networks in general.
Combining these two concepts  James Clough and I have adapted a well-known clustering method, MDS (Multidimensional scaling), so that it works for directed acyclic graphs (Clough and Evans 2017). Traditional MDS is usually applied to data sets where you have a matrix of distances between each object. For a network, this would usually be the length of the shortest path between each node. MDS then assumes that these objects/nodes are embedded in a Euclidean space and suggests the best set of coordinates for the objects in that space. Clustering can then be performed by looking at which points are close together in this space. We found a way to take account of the fact that two papers on exactly the same topic can be published at the same time in different places. They are clearly 'close' together in any common sense definition of close yet there is no direct connection through their citation network. Our method will show that these papers are similar just from the pattern of their citations. Indeed the text could be fairly different (perhaps with two documents on networks, one uses the terms node, link, network while the second uses vertex, edge, graph for the same concepts) but the way these two documents are used by others later, or the way the two documents were based on the same material, indicates they are likely to be working on the same ideas.
Once you have the coordinates of each document in the citation network there are many other standard geometric tools you can use to do other jobs. For instance, to recommend similar papers to one you are reading, you just look for other documents close in a geometric sense given the coordinates we have calculated. In the figure, we show the top two hundred papers from the first decade of the hep-th part of the arXiv paper repository (this is dominated by string theory). The visualisation uses coordinates found using our Lorentzian MDS technique.
Our work with Minkowski space fits into a broader programme of looking at networks in terms of the geometry of different types of space, what I call Netometry (Networks + Geometry, or perhaps Neteometry is better), as exemplified by Krioukov et al 2009. For instance, a good indication that a low dimensional Minkowski space might be a good representation of many citation networks came from our measurements of dimension (Clough and Evans 2016a).
Bibliography
Clough, J.R. & Evans, T.S., 2016. What is the dimension of citation space? Physica A 448, 235-247 [ DOI 10.1016/j.physa.2015.12.053
arXiv:1408.1274 ]
Clough, J.R. & Evans, T.S., 2017. Embedding graphs in Lorentzian spacetime, PLoS ONE 12 e0187301 [DOI: 10.1371/journal.pone.0187301 , arXiv:1602.03103]
Krioukov, D., Papadopoulos, F., Kitsak, M., Vahdat, A. and Boguna, M. 2010. Hyperbolic geometry of complex networks.
Phys. Rev. E, 82 [ arXiv:1006.5169 ]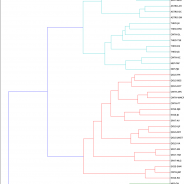 I've really enjoyed reading my copy of Exploring Big Historical Data: The Historian's Macroscope (Macroscope for short here) by Shawn Graham, Ian Milligan and Scott Weingart. As the authors suggest the book will be ideal for students or researchers from humanities asking if they can use big data ideas in their work. While history is the underlying context here, most of the questions and tools are relevant whenever you have text based data, large or small. For physical scientists, many of whom are not used to text data, Macroscope prompts you to ask all the right questions. So this is a book which can really cross the disciplines.  Even if some readers are like me and they find some aspects of the book very familiar, they will still find some new stimulating ideas.  Failing that, will be able to draw on the simplicity of the explanations in Macroscope for their own work. I know enough about text and network analysis to see the details of the methods were skipped over but enough of a broad overview was given for someone to start using the tools. PageRank and tf-idf (term frequency–inverse document frequency) are examples where that practical approach was followed. Humanities has lot of experience of working with texts and a physical scientist like myself can learn a lot from their experience. I have heard this piecemeal in talks and articles over the last ten years or so but I enjoyed having them reinforced in a coherent way in one place. I worry a bit that that the details in Macroscope of how to use one tool or another will rapidly date but on the other hand it means a novice has a real chance to be able to try these ideas out just from this book alone. It is also where the on line resources will come into their own. So I am already planning to recommend this text to my final year physics students tackling projects involving text. My students can handle the technical aspects without the book but even there they will find this book gives them a quick way in.
I can see that this book works as I picked up some of the simpler suggestions and used it on a pet project which is to look at the way that the staff in my department are related through their research interests. I want to see if any bottom-up structure of staff research I can produce from texts written by staff matches up to existing and proposed top-down structures of faculties – departments – research groups. I started using by using python to access to the Scopus api. I'm not sure you can call Elsevier's pages on this api documentation and even stackoverflow struggled to help me but the blog Getting data from the Scopus API helped a lot. A hand collected list of Scopus author ids enabled me to collect all the abstracts from recent papers coauthored by each staff member. I used python libraries to cluster and display the data, following a couple of useful blogs on this process, and got some very acceptable results. However I then realised that I could use the text modelling discussed in the book on the data I had produced. Sure enough a quick and easy tool was suggested in Macroscope, one I didn't know, Voyant Tools.  I just needed a few more lines to my code in order to produce text files, initially one per staff member containing all their recent abstracts in one document. With the Macroscope book in one hand, I soon had a first set of topics, something easy to look at and consider. This showed me that words like Physical and American were often keywords, the second of these being quite surprising initially. However, a quick look at the documents with a text editor (a tool that is rightly never far away in Macroscope) revealed that many abstracts start with a copyright statement such as "2015 American Physical Society", something I might want to remove as this project progresses. I am very wary of such data clustering in general but with proper thought, with checks and balances of the sort which are a key part of Macroscope, you can extract useful information which was otherwise hidden.
So even for someone like me who has used or knows about sophisticated tools in this area and is (over) confident  that they can use such tools, the technical side of Macroscope should provide a very useful short cut despite my initial uncertainty. Beyond that I found that having the basic issues and ideas behind these approaches reinforced and well laid out was really  helpful for me. For someone starting out, like some of my own physical science masters and bachelors students working on some of my social science projects, they will find this book invaluable. A blog or intro document will often show you how to run a tool but they will not always emphasise the wider principles and context for such studies, something you get with Macroscope.
I should make clear that I do have some formal connections with this book, one of my contributions to the pool of academic goodwill. I suggested the general topic of digital humanities and Shawn Graham in particular as a potential author at an annual meeting of the physics and maths advisory committee for ICP (Imperial College Press). For free sandwiches we pass on ideas for topics or book projects to the publisher. I also commented on the formal proposal from all three authors to ICP, for which I often get a free book. My copy of Macroscape was obtained for reviewing a recent book proposal for ICP. Beyond this I get no remuneration from ICP. It is nice to see a topic and an author I highlighted to come together in a real book but the idea is the easy bit and hardly novel in this case. Taking up the idea and making it into a practical publishing project is down to Alice Oven and her ICP colleagues, and to the authors Shawn Graham, Ian Mulligan and Scott Weingart. That's particularly true here as the book was produced in an unusual open source way and ICP had the guts to go along with the authors to try this different type of approach to publishing.
References
Exploring Big Historical Data: The Historian's Macroscope
Shawn Graham (Carleton University, Canada),
Ian Milligan (University of Waterloo, Canada),
Scott Weingart (Indiana University, USA)
ISBN: 978-1-78326-608-1 (hardback)
ISBN: 978-1-78326-637-1 (paperback)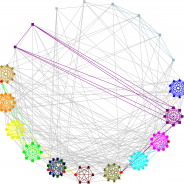 You do not need to know the detailed properties of every small part making up a gas, it turns out the bulk properties of a gas can be derived from very general principles. In the same way when looking at Facebook data, we might be able to identify groups of people who behave in a similar way. Searching for these groups or clusters in data is central in many areas of physical and social science. It is often easier to understand the behaviour of a large system by looking at these clusters, which are much fewer in number.
In terms of networks, the clustering is based on the structure (topology) of the network and the groups found are called Communities. In this case we might expect a coherent group to be one which has more links between members of the group than it ha to nodes outside the group in other clusters. I have done some work on what is called Community Detection, particularly in methods which assign nodes to the membership of several clusters (e.g. my line graph and clique graph papers referenced below).  After all, my social connections are likely to show that I am part of several groups: work colleagues, family relationships, connections made through hobbies or sports.
For some time I have been very wary about the meaning of the clusters found with such methods and particular about claims of one method being able to find "better" communities than another.  A recent paper prompted me to think about this again. In Community detection in networks: structural clusters versus ground truth, Hric, Darst, and Fortunato from Aalto University in Finland (a big centre for networks research) asked if the network methods were finding different sorts of clusters from those found using other aspects of the data. Typically when testing a community detection method, one sets up artificial networks in which each node is assigned to one community. The edges between nodes are then assigned at random but with a preference for edges to be between nodes from the same community.  I can do all the tests I like on artificial data but I am always worried that this approach has introduced some hidden bias. Perhaps we end up choosing the methods that 'work' on artificial data but which are perhaps not so good on real messy data? It all comes down to the fact that we have mathematical ways to quantify the difference between community assignments but defining what we mean by "the best" clustering is impossible. Even with artificial networks, the "ground truth" is not generally an absolute truth.  Typically the "truth" are input parameters and the actual network generated is partly random. So while the resulting artificial network is correlated with the ground truth it is not designed to be a perfect match. So in this case the "actual truth" will, in almost most cases, be different from the ground truth. [Note added 5th January 2016. Another more recent paper which includes some expert evaluation of communities found as well as a comparison of many different methods is Šubelj, van Eck and Waltman 2015 Clustering scientific publications based on citation relations: A systematic comparison of different methods.]
I also worry about what we do when we run network community detection methods on large real data sets where there is no simple ground truth.  When I have done this, I can find a variety of possible answers for communities in the data.  Many look reasonable but none correlate perfectly with each other or with what I know from other sources. This leaves me wondering if the automatic methods are finding one truth and my other information gives another. Alternatively the automatic methods might be rubbish, good on artificial cases, not so good in reality. There is no simple way of telling.
In any case do real networks have a "ground truth"?  Quite often people have data from other sources about real networks and they use this to construct a "ground truth".  The test is then to see if automatic methods can find this ground truth. However what if the other data is wrong? People don't always tell the truth, they can deliberately mislead or they can misunderstand the problem. Children surveyed about their friendships may tell you who they'd like to be friends with (the most popular person in the class) and not who they actually spend time with.
Take the famous Zachary karate club data set used by many (including myself) as a simple test. This is a network of members of a karate club that split in two during the sociologist's study. Let us accept that the professionalism of Zachary has produced data that is a true reflection of the situation despite the difficulty of measuring associations in social science. If you look at the published paper it actually gives two truths. One is based on which of two factions the members actually joined, and one based on an automatic community detection method.  I suspect most people are using the latter as the ground truth (unwittingly) when testing their work.  Perhaps this is a further example supporting the claim that academics only read 20% of their references. Worse the data given in the published karate club paper is not consistent – the unweighted adjacency matrix is not symmetric.  So which truth was used for all those papers using the Karate club network?
Another example comes from some work I did on overlapping community methods. Like many other people I downloaded a standard data set from Mark Newman's web site, an extremely useful resource. The American College Football data was created by Girvan and Newman (in Community structure in social and biological networks) and represents the games played between American College Football teams in one season.  Also provided are the conference membership of each team.  Teams play more games against teams from their own conference than from any one other conference. In fact, this data is so well clustered that surely no method should get anything wrong beyond a few independent teams as my visualisations here illustrate (taken from my clique based clustering paper). So I looked at the "mistakes" made by my method. After about two afternoons of wading through interminable websites of stats on American College football and Wikipedia pages on the College Conference system, I realised that in fact most of the "mistakes" were not from the automatic community detection but lay in "the ground truth", that is in the conferences assigned to teams in the data file. It turns out that the assignments in the original football.gml file are for the 2001 season while the file records information about the games played for the 2000 season. For instance, the Big West conference existed for football till 2000 while the Sun Belt conference was only started in 2001. There were 11 conferences and 5 independents in 2001 but 10 conferences and 8 independents in 2000.   Care is needed as American College athletic conferences cover many sports, with some sports joining or dropped from any one conference time to time. Teams can also switch conferences too. In fact, around 10% of the college teams playing American football at the top level changed conferences around 2000-2001. (Note added 5th January 2016.  These errors were also noted in Gschwind et al 2015, Social Network Analysis and Community Detection by Decomposing a Graph into Relaxed Cliques, only the second paper I've seen which does this independent from my discussion).
So often the "ground truth" is just another truth not some absolute truth! The errors in the Zachary Karate club and American College Football data do not matter in one sense as they still provide valid and valuable tests for methods.   The conclusions in the hundreds of papers using these data sets and which use these questionable ground truths would not change. Indeed it highlights one role for automatic methods.   You can see that where Girvan and Newman's methods get the "wrong" answer in their original paper (Community structure in social and biological networks) they are in fact highlighting problems with their conference data. Validation of data is a very useful if boring job. A final question will always be if there is a single truth. For instance I am in the theoretical physics group of the physics department of the Faculty of Natural Sciences at Imperial College London.  That top-down hierarchical truth is important when allocating desks and teaching.  However another truth would emerge if you studied my research relationships.  Those are with staff and students based in other physics research groups and with colleagues from other departments and even other faculties.
So I was really pleased to see that Community detection in networks: structural clusters versus ground truth were questioning the meaning of truth in community detection from a quantitative point of view. Clustering of data, finding communities in data is of tremendous value commercially and for research, but there is still a lot more work to do before we understand these different truths.
References
M. Girvan, M.E.J. Newman, Community structure in social and biological networks, PNAS (2002) 99, 7821-782
W. Zachary, Information-Flow Model For Conflict And Fission In Small-Groups Journal Of Anthropological Research, (1977) 33  452–473
D. Hric, R.K. Darst,and S.Fortunato,  Community detection in networks: structural clusters versus ground truth,  arXiv:1406.0146
T.S. Evans, American College Football Network Files. figshare. (2012).  http://dx.doi.org/10.6084/m9.figshare.93179
T.S. Evans, and R. Lambiotte, Line Graphs, Link Partitions and Overlapping Communities Phys.Rev.E, 2009, 80, 016105 [arXiv:0903.2181].
T.S. Evans, Clique Graphs and Overlapping Communities J. Stat. Mech. (2010) P12037  http://dx.doi.org/10.1088/1742-5468/2010/12/P12037
[arXiv:1009.0638]
L. Šubelj, N.J. van Eck, L. Waltman, Clustering scientific publications based on citation relations: A systematic comparison of different methods, arXiv:1512.09023 .